Facebook's eerily good recommendations
I'm in Dallas at a friend's place tonight, playing with Facebook's graph search tonight.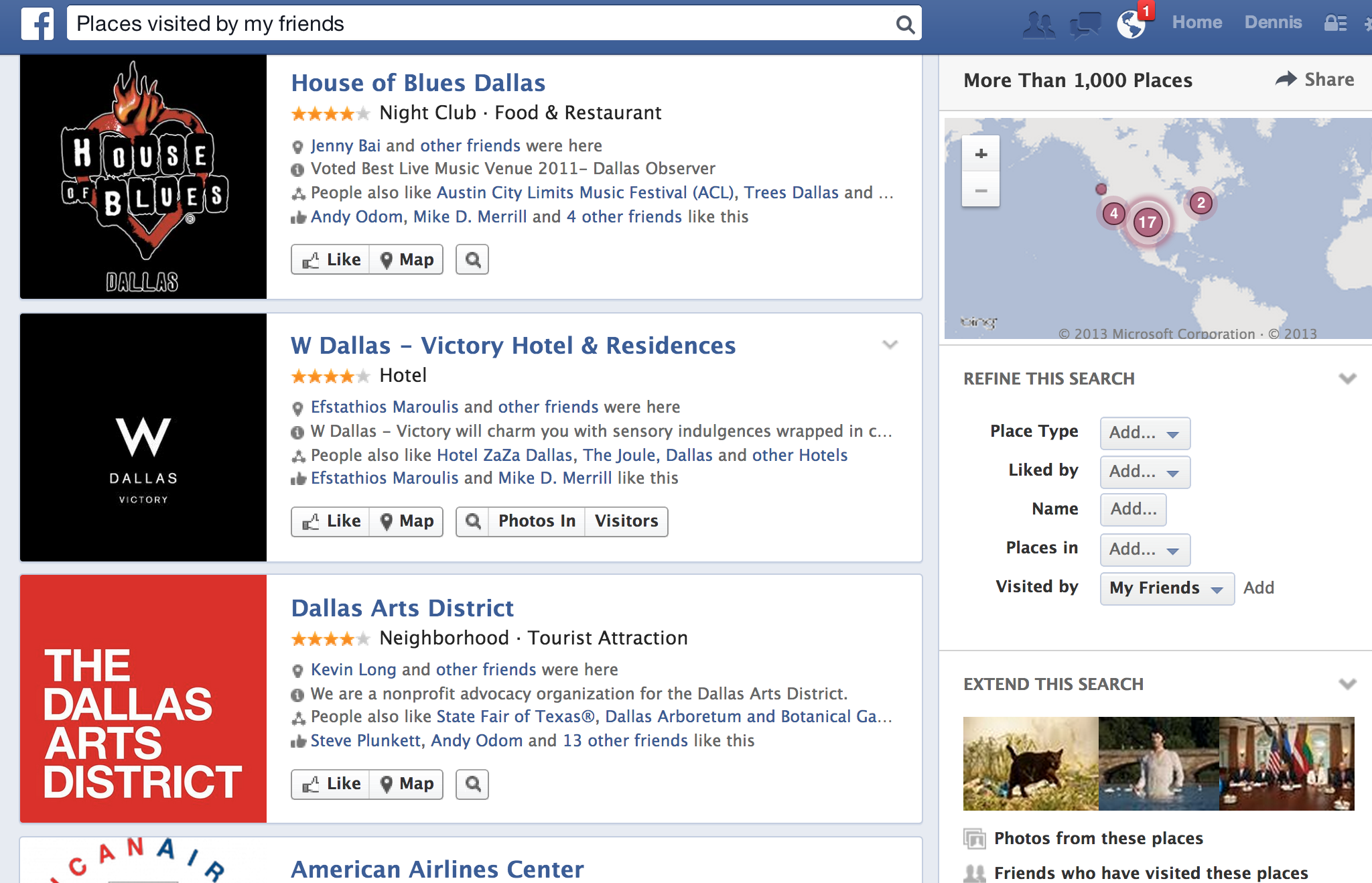 Notice every single one of these suggestions is in Dallas?
When I did this search a few weeks ago, it showed me where my friends have been in general, not based on my current location.
Google used to categorize 25% of searches as being local. If you said "Denver plastic surgeon", then clearly you were looking for a local search, since the city is in the query.
If you said "pizza", Google would infer you were looking to eat pizza at a nearby restaurant, as opposed to wanting to know how to make pizza, the history of pizza, or pictures of pizza.
Google is now categorizing well over 30% of searches as being local.  Do you think Facebook will be higher, given their mobile share is higher?
I did the above search on a desktop, by the way. But Facebook still knew I was in Dallas based on my ip address, as well as the last few statuses from my phone and the Dallas friends I'm hanging out with.
If you're a local business, how would you capitalize upon this?
Get more check-ins from your fans, so that you have a higher "strength" in Facebook's local searches– especially since Facebook is now showing more local search results.
Make sure your page has multiple categories– you can select more than one. And it better not be a community page, which eliminates check-ins altogether.
If you have multiple locations, make sure to claim them all. And when you post more frequently– at least once a day– you get more opportunities to have fresh content/interactions bump up your search results.
Get more local fans– run page like stories to increase the number of possible local connections to prospective customers.
Have you played with the new graph search features to see how your business shows up?
Will Facebook's search give Google a run for the money or be complementary?